inno

inno ensures that investment into knowledge generates substantial returns for its private and public clients and partners. inno evaluate, design and implement strategies, infrastructures, institutions, and programmes aimed at delivering innovation success and enhancing the economic performance. inno is ISO-9001 quality certified for matters dealing with directing of innovation and value creation business. Inno is also co-entrepreneur and set up high growth companies in partnership with public research institutions.Based in Europe and the U.S., inno drives the value creation in these companies by providing expertise, networks and financial resources. Over the last 15 years Inno has combined highly specialised expertise, creativity and pragmatism to assist more than 500 clients all over Europe.
One of the activities of inno is to provide management support to complex inter-institutional and trans-national projects relevant to innovation, science and technologies. This includes FP consortium & knowledge management, reporting, accountancy and financial controlling, IPR issues, dissemination and exploitation of research results, support of spin-offs as well as general marketing and public relations activities.
Recently, inno developed a science and technology department dealing with technological watch to identify new concepts and techniques, prototyping to demonstrate a product/service, software integration and packaging, and technical workshops/seminars to disseminate the knowledge. Through those activities, inno lab helps commercialization by targeting the right market with the right product/service and by reducing the time to market needed by a product between its conception and its delivery.
University of Luxembourg

The strategy adopted by the University of Luxembourg is to support deliberately restricted, high priority areas of focus for scientific research.
In particular, the Research Groups of the University of Luxembourg's Faculty of Sciences, Technology and Communication, Computer Science and Communications Research Unit are:
Communicative Systems Laboratory (ComSys)
Interdisciplinary Lab for Intelligent and Adaptive Systems (ILIAS)
The Laboratory of Algorithmics, Cryptology and Security (LACS)
The Laboratory for Advanced Software Systems (LASSY)
All of which are crucial for the Future Internet.
BII

The former of BII is Beijing Internet Institute, which was established in 1995 with support from Development Research Center of the State Council, and it consisted of returned scholars and government think-tank working on internet research. BII was formed in 1999, and it's one of the high-tech enterprises that first focused on internet of telecommunication area in China.
With the vision of "Being the Internet Pilot", BII has been keeping focus on the development opportunity of next generation internet for more than a decade, keeping accumulation of advantageous resources and core competencies, and now has become a leading technology and service provider in IPv6 area in China.
BII chairs IPv6 Forum China Commission, and is the member of Work Council for China Next Generation Internet Demonstration Project CNGI, founder-member and director of Internet Society of China, and director-general unit of Zhongguancun Next generation Internet Industry Association. BII also operates IPv6 Testing Center in China.
GNKS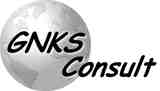 GNKS Consult was founded in 2006 and conducts strategic and policy research and evaluation, building on excellence in understanding of the impact of the emerging Global Networked Knowledge Society. For its project work GNKS Consult brings together people who have built up experience and expertise in multi-disciplinary, high quality work, and understand that for any decision today, the impact for tomorrow needs to be considered.
GNKS has been involved in Future Internet studies and several RFID policy studies and ex ante assessments for DG Information Society. In addition, it has relevant study and policy assessment experience in the areas of information security, dependability of information infrastructures, data protection and privacy, Internet governance and pan-European public services.